iSCADA System
The Fire and Rescue Department (BOMBA) has made it compulsory for all designated premises to have the Automatic Fire Alarm Monitoring Control System (SPKA). Every designated premises/buildings under Section 27 of the Fire Services Act would be required to link their fire alarm system to the nearest fire station through SPKA.
System Architecture Diagram of SPKA (Sistem Pengawasan Kebakaran Automatik)
What is SCADA?
SCADA (Supervisory Control and Data Acquisition) technology provides the means to monitor and control distributed systems from a central location. They are used widely in the telecommunications, power, oil & gas and transportation industries.
SCADA systems are typically deployed with dedicated communication infrastructure, proprietary software and hardware.
SCADA has been used worldwide in various engineering fields in a bid to deliver useful data in order that effective and timely decisions can be made and acted upon. The advent of internet and fast computing power advances the SCADA technology by leaps and bounds.
Distance and time lags are things of the past. Real time feedback is not only possible and viable, but now fast becoming more of a necessity.
What is iSCADA System?
iSCADA allows for the monitoring of information and the control of devices in real time from any location.
iSCADA builds on two key technologies: SCADA (Supervisory Control And Data Acquisition, widely used in control rooms for industries such as power, telecommunications, and oil & gas) and IoT (the Internet of Things).
With features from these two technologies working in combination, iSCADA is able to deliver to user detailed information about virtually any device or sensor regardless of distance.
iSCADA is an Internet-based SCADA solution that utilizes the public Internet infrastructure as the data communication medium.
It uniquely combines traditional SCADA technology with the open data communication protocols, services and data formats of the public Internet to deliver cost-effective and easy-to-use SCADA solutions.
With iSCADA, it is now feasible to monitor and control virtually anything from anywhere in the world.
How does iSCADA Work?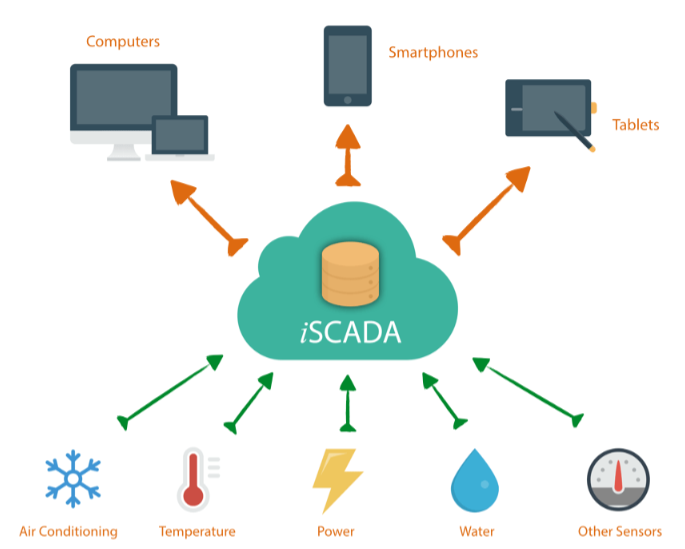 Photo from: devicesworld.net
Within facilities, there are key locations where sensors can measure valuable information about factors such as power usage, water usage, or temperature. iSCADA Gateway devices are installed in these locations to collect information from the sensors.
The iSCADA Gateway transmits collected site data via the internet, thus allowing any authorised user access to all information and data via the web.
iSCADA Solutions for BOMBA
SCADA NET SDN BHD (iSnet) has recently been appointed by Jabatan Bomba dan Penyelamat Malaysia (JBPM) as the direct fire safety link service provider to BOMBA.
This advanced BOMBA direct fire safety link system is called Sistem Pengawasan Kebakaran Automatik (SPKA) and it replaces the existing Computerised Fire Alarm Monitoring and Communication System (CMS) which is being phased out. SPKA is a specific fire safety system.
The system behind SPKA is iBOSS (iSnet-based BOMBA Operations Safety System). iBOSS is a specific fire safety development that evolved from the iSCADA platform.
Improve Fire Safety through better Maintenance
Improve Fire Certificate Management by Remote Monitoring
Extend Coverage of CMS for better response to emergencies
1) INITIAL ROLL-OUT DIAGRAM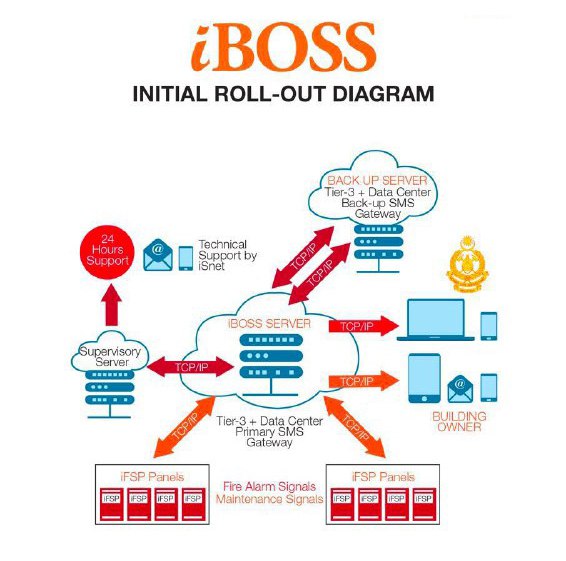 2) FALSE ALARM SUB-MANAGEMENT SYSTEM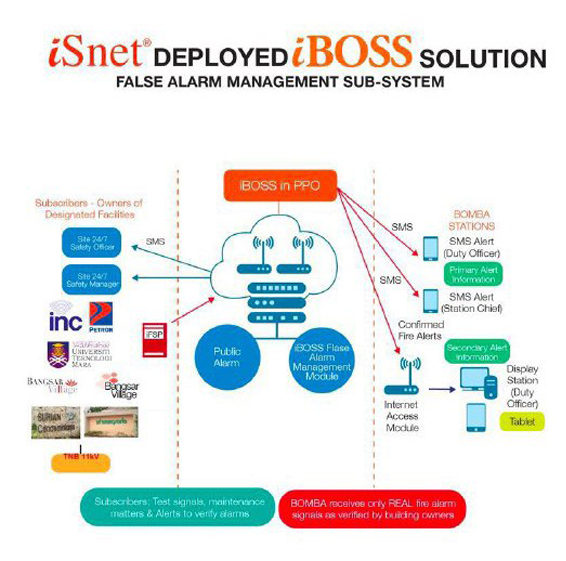 3) FROM iSCADA to iBOSS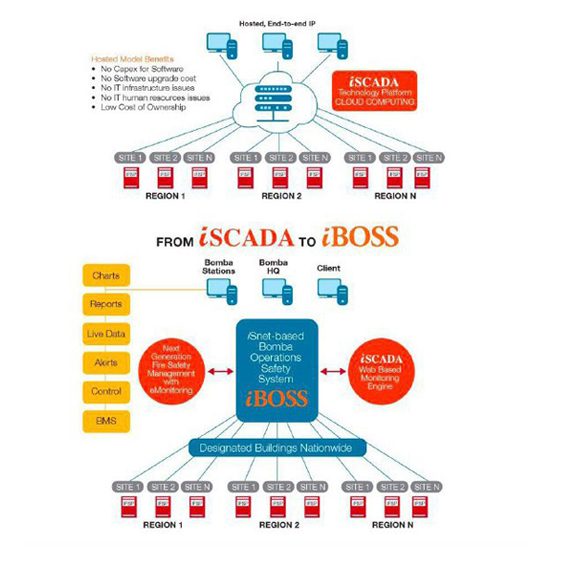 Building owner or authorized company by building owner can register SPKA at http://isnet.my/register.php or can visit www.isnet.my to learn more about iSCADA System and at the same time can register your company and user to access the system.
At AITO FIREWORK, we have been appointed as an authorised SPKA Installer and Maintenance by iSCADA NET SDN BHD for Zon 1A: KUALA LUMPUR/PUTRAJAYA. Our hotline is at 1700-81-5124. Now you can get an iSCADA Installation from us.