Fire Contractor In Malaysia.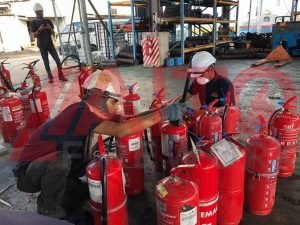 Nowadays, fire extinguishers are not only placed in business premises or at companies' buildings but it is also can be placed at home. This is a precautionary measure in case of fire at home. There are various types of fire extinguishers that are easily available in the marketplace and at competitive prices, no longer like the old days.
Now, if you do not have time or have the constraint to buy a fire extinguisher in the store, you just have to surf the internet through your smartphone or use your computer to find a fire extinguisher agent or supplier near you or that can ship to your place at a reasonable price. For business premises or companies' buildings, you can try to find any trusted fire contractor that is officially registered under Jabatan BOMBA dan Penyelamat Malaysia that can deliver the items and give consultation based on what are the requirements. How do you know whether the company has been registered or not? It is easy; you can check the list of companies that have been registered here https://www.bomba.gov.my/efeis/. There are approximately 108 e-FEIS centres throughout Malaysia, including our company, AITO Firework Holding Sdn Bhd.
Preferably before you purchase a fire extinguisher, it is advisable to learn how to use the fire extinguisher properly and safely. This is to ensure that no accident happens if you suddenly need to use the fire extinguisher. Additionally, you also need to make sure you know the basic ways of maintaining a fire extinguisher. It is important to prevent the fire extinguisher from experiencing any damage or not working properly while being used and at the same time will cause loss to yourself.
Image by firesafetysg.com
The Difference of a Fire Extinguisher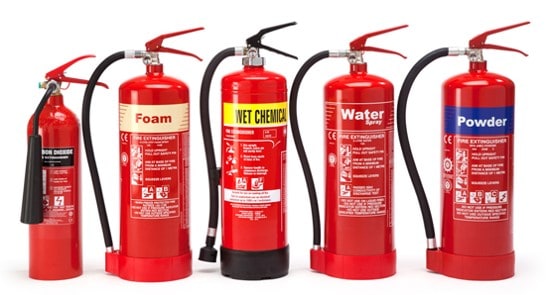 Each fire extinguisher is different according to its type. The types of fire extinguishers that exist in the market and installation is provided by the fire contractor is water type fire extinguisher, foam fire extinguisher, fire extinguishers, carbon dioxide fire extinguisher and dry powder fire extinguisher. Each type of fire extinguisher has different functions for different types of fires stop. This means that every fire extinguisher has the ability to remove the type of fire that has been classified and each fire extinguisher does not have the ability to extinguish all types of fires.
Therefore, before you purchase a fire extinguisher you should first ask the fire contractor what kind of fire extinguisher is suitable for your building or take the course provided by the fire contractor company such as fire training to differentiate the types of fire and which fire extinguishers are suitable to be used. Most importantly, you choose the right label and size that suits you well.
There are many fire contractors out there selling a variety of brands, sizes and types of fire extinguishers that can be selected and one of the fire contractors is us and our company is also registered under the Jabatan BOMBA dan Penyelamat Malaysia. It is important that you choose your fire contractor properly and get a consultation before you hire them. Especially those whose in charge for the first time should know more about the type of fire extinguisher that is suitable to use on what kind of fire and how many should you purchase for your building.
We also provide delivery services throughout Selangor with different charges according to quantity and delivery area. And for home use, of course, this will make it easier for you as a fire extinguisher can be sent directly to your home. In addition, AITO Firework Holding Sdn Bhd also provides fire extinguisher servicing to ease our customers. One way to ensure the effectiveness of fire extinguishers is to ensure that persons who are in charge of the fire extinguishers are a ready-person, not panicked and able to lift the fire extinguishers.
You can contact us directly through WhatsApp if you have any questions that are confusing you.