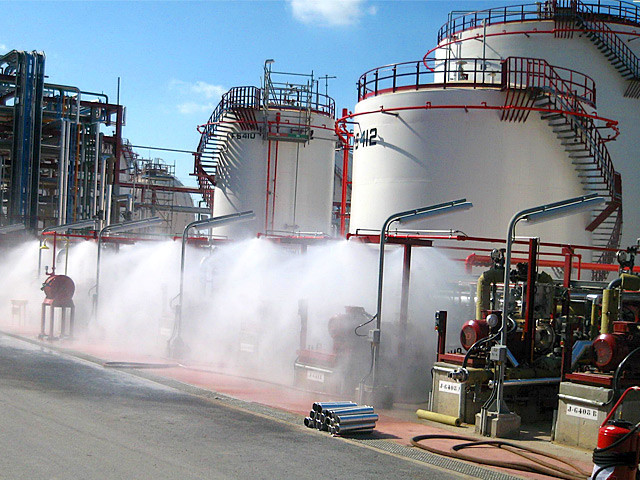 A specific permanent pipe system called a "water spray system" that is connected to a dependable pressurised water supply source and has water spray nozzles on it for use on the area or equipment that needs to be protected. By connecting to an automatic detection and alarm system, the system can be operated automatically, manually, or both.
Water spray systems are typically used to protect openings in fire walls and floors as well as flammable liquid and gas storage tanks, pipes, pumping equipment, electrical equipment including transformers, oil switches, spinning electrical machinery, etc. from fire.
The water supply is linked to the pipe system through an autonomously operated Deluge Valve, which starts the water flow. Automatic detecting devices that are mounted alongside water spray nozzles are used to trigger automatic actuation.
2 Types of Water Spray System
Components of the System:
• Fire Fighting Pumps & Accessories.
• Piping
• Nozzles
• Deluge Valve
• Sprinkler / Detectors / Compressor
• Wiring & Instrumentations
• Maintenance Valves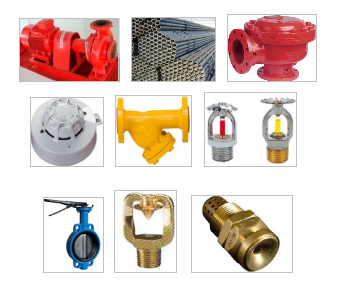 The high / medium speed water spray system protection operates at the identical precept as a deluge system. Deluge Valve is referred to as a gadget manage valve in a deluge system, used for immediate application of water in a spray system. Deluge valve is a quick release, hydraulically operated diaphragm valve. It has 3 chambers, remoted from every different via way of means of the diaphragm operated clapper and seat seal. While in 'SET' position, water stress is transmitted thru an outside skip take a look at valve and limit orifice from the gadget deliver facet to the pinnacle chamber, in order that supply pressure withinside the top chamber acts throughout the diaphragm operated clapper which holds the seat in opposition to the inlet deliver pressure because of differential pressure design. On detection of hearthplace the pinnacle chamber is vented to atmosphere thru the opening port through opened actuation device(s). The top chamber pressure can not be replenished thru the restricted inlet port, thus it reaches much less than 1/2 of the supply pressure immediately and the upward pressure of the supply pressure lifts the clapper permitting water to go into the system piping network and alarm devices. This allows the water to flow out thru the projectors withinside the form of high / medium speed water spray and extinguishes the fire. Generally, a water motor operated gong (as withinside the case of sprinkler structures) sounds the hearthplace alarm. Sometimes, moreover an electrical alarm will also be provided. The water spray systems ought to have isolation facilities as a way to enable periodic testing, maintenance etc. Normally, all cut-off valves ought to be locked open.
We provide nice Design & Engineering of an incorporated HVW / MVW spray system as consistent with national/ global standard and guidelines. Our designed system according to global standards is an association of Piping, Deluge & Automatic Value, Nozzle, Q.B. Detectors etc. to make an automated or manually actuated fixed pipe system linked to a water supply to provide a selected water discharge and distribution over the protected surface of area.
The good news is AITO has capable technician that can possess the required abilities and information.