PGI's Cobra NextGen hoods feature an innovative design that combines exceptional fit, superior performance, and unsurpassed comfort. UL-classified to NFPA 1971 Standard on Protective Ensembles for Structural and Proximity Fire Fighting, Current Edition.
Cobra SureFit hoods have a 3″ wide centre panel instead of a centre seam, allowing PGI to contour the hood to the shape of the head for improved fit and comfort. Cobra SureFit hoods have a little extra fabric (ease) built into the design, which improves thermal resistance from flame and heat by adding a layer of air between hood and head and reducing the likelihood of the face opening pulling away from the SCBA mask when head is rotated.
Thermal and comfortable high-tech fabric. Carbon Shield  fabric won't burn. This fabric wicks moisture from the skin to the outer shell so it can evaporate quickly.
Customized Comfort Begins Here
All hoods feature flat stitched seams, X-Heavy 1/2″ wide elasticized face opening, cover stitched bound drapes, all sewing done with 100% Nomex thread and all points of stress bartacked.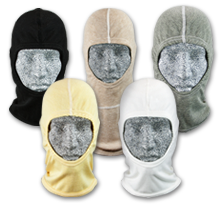 Hood only styles in Single Ply and Double Ply
Doubly Ply Hoods with Single Ply Bibs
Doubly Ply hoods with Comfort Plus™ liners available in hood only, or hood with bib styles
Recommended for NON-STRUCTURAL FIRE FIGHTING related jobs when you need protection from flame, radiant heat, flash fire, electric arc, welding sparks and splatter, molten metal splash and cold weather
Double layer coverage of neck, upper chest and top of the shoulder blades
Shoulders are contoured to reduce bunching at neck and bib
These UL classified hoods are recommended for STRUCTURAL FIRE FIGHTING as well as other industries which require protection from flash fire, radiant heat, electric arc or cold weather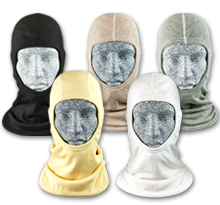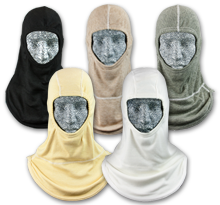 New and improved styling
Longer length front and back for maximum coverage
Double layer coverage of neck, chest and shoulder blades
Tapered back and notched shoulder design to help bib lie flat on both chest and back
Label sewn down on all four sides for comfort and permanency
These UL classified hoods are recommended for STRUCTURAL FIRE FIGHTING as well as other industries which require protection from flash fire, radiant heat, electric arc or cold weather
Designed for maximum protection
Double layer coverage of neck, chest and shoulder blades
Gusset at side seams add additional coverage at top of shoulders and are patterned to reduce bib from bunching in front and back
These UL classified hoods are recommended for STRUCTURAL FIRE as well as other industries which require protection from flash fire, radiant heat, electric arc or cold weather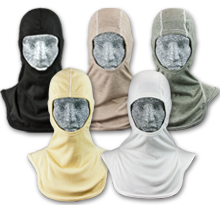 At AITO Firework Sdn Bhd, we do sell fire extinguishers among an extensive range of fire safety equipment. In addition, we offer education and training to help you, your organization or your business to operate the equipment effectively. To inquire further, contact our friendly team today