Fire Alarm Panel: What Fire Alarm Panel Can Do?
The choice of fire alarm panel depends on the building structure, the purpose and use of the building and current legislation. In new or altered buildings the enforcement body is the local building control, and the relevant guidance is explained in section new or altered buildings.
All Fire Alarm panels essentially operate on the same principle.
If a detector detects smoke or heat or someone operates a break glass unit (manual breakpoint), then alarm sounders operate to warn others in the building that there may be a fire and to evacuate.
It may also incorporate remote signalling equipment which would alert the fire team via a central station.
Fire Alarm Panel can be broken down into four categories:
Conventional
Analogue Addressable
Addressable Wireless systems
Conventional Fire Alarm System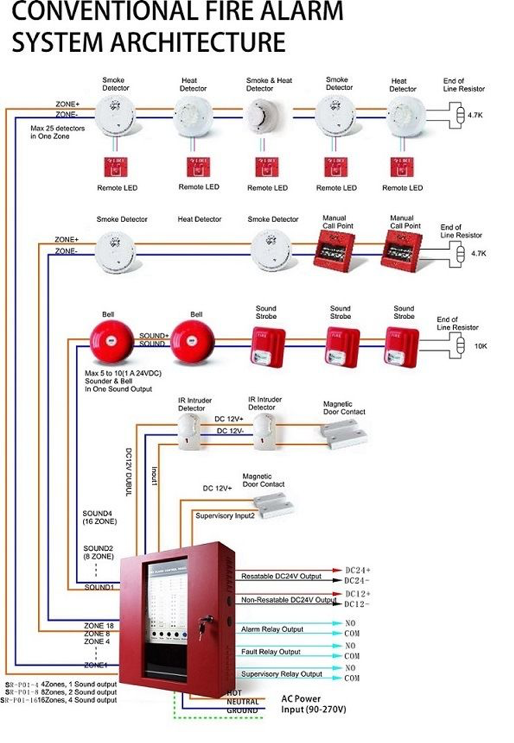 There are plenty of fire alarm panel brands that you should see if you wish to install one or upgrade your existing fire alarm panel.
1. Simplex
Simplex Fire Alarm Networks communicate information among distributed Simplex fire alarm control panels. The unique message management system provides a fast response to critical functions. Each network card operates independently, providing superior distance coverage between panels communicating on the network.
2. Siemens
Siemens fire alarm systems provide unbeatable accuracy and ease of use for building personnel, installers, and firefighters. All the features that make them simple to handle are designed to reduce costs over the life of the system. From flexible architecture to time-and-money-saving installation features, Siemens intelligent fire detection and fire alarm systems support a broad range of buildings, applications and markets.
3. Autronica
Autronica's extinguishant control system AutroXT provides reliable fire protection through standards-compliant extinguishant control. The panels are meant to be used together with AutroSafe 4 or Autroprime interactive fire detection systems.
4. EST
System Monitoring is an important and mandatory part of your fire alarm system. With EST's monitoring service, EST detection system will quickly notify you of a fire in the earliest stages.
5. GST
Range of GST fire alarm system equipment, comprehensive range of panels, detectors and peripheral components.
6. KIDDE
This range includes the popular Airsense and Alarmline ranges of equipment. These units are ideal for use in areas with maintenance issues.
7. Program electronic
Program Fire Alarm Control Panel, Model: PE-FA 120L is manufactured and tested in accordance to EN 54-2 : 1997 (which is equivalent to MS1745-2: 2004) and also conformed to the local CIFS requirement.
This controls are housed in signal red metal enclosure with glaze panel in front for clear visibility of the control and indications.
The benefits of this product, it is cost-saving, user friendly and it could fit into various brands of conventional detectors. This is applicable for all hospital, campus, schools, factories, commercial buildings and office buildings.
8. Ampac
Ampac fire alarm system equipment includes conventional and analogue addressable equipment and is ideal for use in buildings.
9. Bosch
The LSN Panels provide Bosch technology with sophisticated capabilities of large-scale installations to smaller applications.
10. Zeta
Zeta Alarm Systems is a one stop centre for a complete fire alarm system supplier. This means their customers can rely on them for the entire fire system requirements.
Zeta also includes conventional and analogue addressable equipment. One of the main advantages of using a complete system supplier, rather than a component supplier, is that system wide compatibility is assured.
11. Demco

LPCB certified to the latest revisions of EN54 parts 2 and 4, the new-look super-enhanced CFP conventional fire panel offers an array of user and installer-friendly features at a very competitive price.
Supplied in an attractive flush or surface mountable plastic enclosure, 2, 4 and 8 zone versions are available, each featuring four conventional sounder circuits, class change and alert inputs, on-board fire and fault relays and combined keypad/key-switch entry.
A wide range of engineering functions are also provided including selectable zone delays, coincidence and non-latching zone facilities. Comprehensive test and fault-finding facilities are also provided.

Context Plus's XFP range of networkable analogue addressable fire panels offer high performance at a competitive price.
Certified to the latest versions of EN54 parts 2 & 4 by the Loss Prevention Certification Board, two versions are available – a cost-effective single loop 16 zone panel in a plastic enclosure and a robust 1 or 2 loop 32 zone metal panel.
Ideal for use in office blocks, shopping complexes and big industrial sites as well as smaller stand-alone applications, both versions offer an array of user and installer-friendly features.
12. Gent
The Gent Conventional Panel range includes the Xenex panels. These panels are available in 2, 4 and 8 zone sizes as well as a repeater panel version.
Each panel features a battery backup facility which ensures that the panel continues to operate even in the event of a mains failure.
From control panels through to manual call points, detectors, bells, door releases and sounders, Honeywell Gent provides a cost effective conventional fire detection system scalable for sites of all types.
13. Morley
The Morley Conventional Fire Alarm Equipment range includes the Morley Horizon range of fire alarm control panels and detectors. Morley manufacture a range of Analogue Addressable Fire Alarm System equipment specifically designed for use with their range of analogue addressable control panels.
14. Notifier
Notifier are one of the world's largest manufacturers of high-quality fire system equipment and are part of the world-renowned Honeywell group.
This equipment range includes a comprehensive selection of analogue addressable fire systems, with panels available up to 8 loops in size.
To compliment the panel range there is a wide selection of detection options available, starting with standard smoke and heat detectors and ranging to high sensitivity and specialist multi-criteria detection variants.