A firefighting tools inventory is essential for battling a fire when it breaks out. Natural disasters such as earthquakes and floods are uncontrollable by people, but some calamities are.
Fire is another type of catastrophe that can be controlled using firefighting tools. Extinguishing flames requires a wide range of firefighting tools. The goal of creating various firefighting tools is to combat various types of fire.
The fire can expand due to the burning of various things such as paper, fabric, oil, and so on. Depending on the substance that is smoldering during the fire, the fire is classified.
Because various locations have varying assets and resources, the fire classifications vary. Knowing which fire class will be doused with which firefighting tools is therefore required.
The following is an inventory of firefighting tools accessible at AITO:
It is the most prevalent type of firefighting tools used to put out a fire. There are various kinds of fire extinguishers, such as CO2 fire extinguishers, water-type fire extinguishers, and so on.
Each type of fire extinguisher is specially designed for suppressing different classes of fire.
The fire alert system is a complete system capable of suppressing fires by sensing smoke. When the alert detects smoke, it activates the fire suppression devices. The majority of fire alert devices are automated.
Smoke detectors are basic devices that are placed in almost every room of a house or structure to identify the smoke generated by a fire. As a result, the wire can be regulated as soon as it fractures.
The heat monitor detects changes in temperature in the area where it is placed. Knowing about the temperature increase can help you avoid a conflagration.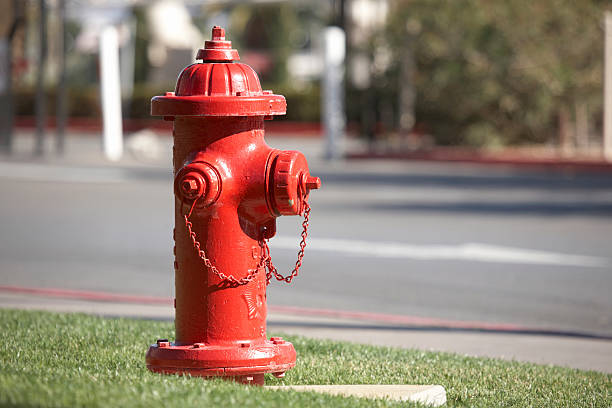 The heat monitor detects changes in temperature in the area where it is placed. Knowing about the temperature increase can help you avoid a conflagration.
A fire suppression system is also a full system of tools connected together for the purpose of suppressing a fire. There are various kinds of fire suppression devices that are successful at extinguishing various categories of fire.
Fire doors appear to be regular entrances, but they serve an important purpose. When these doors are closed, they divide the fire-damaged area from the other rooms. Fire exits also put out the flames.
Emergency and Safety signs:
Emergency and safety signs are installed in various locations to alert people about potential dangers. These signs can signify no smoking, slippery surfaces, hazardous bends, and much more.
Fire Safety first aid kit:
A fire safety first aid kit contains all the essentials which are effective on the injuries and wounds, that result from fires. It contains all the ointments and bandages required instantly for burns.
Fire hoses are pipelines that are used to transport water from one location to another, typically from the water supply source to the fire site, in order to extinguish the fire. The diameter and length of fire hoses differ.
Fire buckets resemble conventional buckets in form, but they are filled with water, sand, or any other fire-fighting substance. In an emergency, these containers can be used right away.
Fire blankets, as the name implies, are blanket-like items used to smother a fire. A fire blanket is draped around the burning items or people.
Fire sprinklers are tiny pieces of firefighting apparatus with huge benefits. When the temperature rises, fire extinguishers activate the fire battling system, which extinguishes the fire.
Fire suit/ Firefighter gear:
A fire suit/firefighter clothing is designed for firemen' protection while extinguishing a fire. This suit must be worn before diving into the fire, or the firemen will perish. It comes with everything you need to protect every area of your body.
A fire battling truck is useful because it is movable and can easily travel from one location to another in order to extinguish a fire. They are capable of transporting large firefighting tools from one location to another.
A fire Cabinet is a secure location for storing fire hoses, which are used to quench fires by transporting water from one location to another. A fire cupboard safeguards the safety of fire lines.