Dry Powder Fire Extinguisher
Dry powder fire extinguisher. Do you know there are many fire extinguisher types that can be used to put out fires? A different class of fire needs a different type of extinguisher to control and extinguish fires. You should have the right types of fire extinguishers for your premises, or you may not meet current regulations.
There are five main fire extinguisher types:
Water
Foam
Dry powder
CO2
Wet Chemical
In this article, we will find out more details on dry powder fire extinguishers. The dry powder can be used to put out the fires on Class A, Class B, Class C, Class D and Electrical. But, for Electrical it will leave a residue that may be harmful to sensitive electronics. Dry powder can't be used for Class F fires.
DRY POWDER FIRE EXTINGUISHER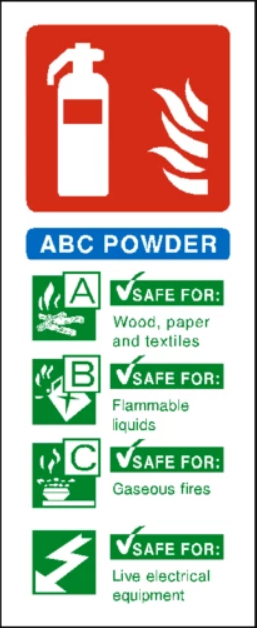 There are two types of dry powder fire extinguishers which is standard and specialist. Standard dry powder extinguishers also called as ABC extinguishers because they can tackle class A, B, and C fires. However, they are not recommended for use in enclosed spaces.
This is because the powder can be easily inhaled, and also the residue is very difficult to clean up after. ABC powder extinguishers can also be used on some electrical fires. Specialist dry powder extinguishers are used for flammable metals.
The label color for dry powder extinguishers is BLUE. It should be identified by an extinguisher ID sign fixed nearby: Powder Extinguisher.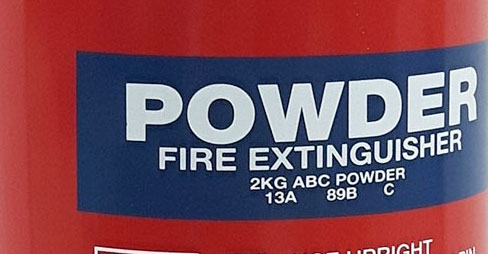 DRY POWDER FIRE EXTINGUISHER USES:
+ Standard dry powder extinguishers:
Fires involving flammable solids, such as paper, wood, and textiles ('class A' fires)
Fires involving flammable liquids, such as petrol, diesel, and paint ('class B' fires)
Fires involving flammable gases, such as butane and methane ('class C' fires)
Electrical fires involving electrical equipment up to 1000v
+ Specialist dry powder extinguishers
Fires involving the flammable metal, lithium (L2 powder extinguishers only)
Fires involving all other flammable metals (M28 powder extinguishers only)
DO NOT USE DRY POWDER FIRE EXTINGUISHERS FOR:
Fires involving cooking oil, such as chip pan fires ('class F' fires)
Fires involving electrical equipment over 1000v
Fires in enclosed spaces
Fires involving flammable metals UNLESS it is a specialist dry powder extinguisher
WHAT IS THE DIFFERENCE BETWEEN STANDARD DRY POWDER AND SPECIALIST DRY POWDER EXTINGUISHERS?
Specialist dry powder extinguishers work in the same way as standard dry powder extinguishers but are for use with flammable metals only. There are 2 types of specialist dry powder extinguishers – 'L2' which only tackles lithium fires, and 'M28', for all other flammable metal fires.
HOW DRY POWDER EXTINGUISHER WORKS
Dry powder fire extinguishers work by smother fires and forming a barrier between the fuel and the source of oxygen. As they do not cool the fire, there is a small risk that the fire might can re-ignition.
HOW TO USE A DRY POWDER FIRE EXTINGUISHER
In all cases, firstly remove the safety pin to break the anti-tamper seal, and stand well back from the fire.
Remember – don't use dry powder extinguishers in enclosed areas.
Removing a safety pin
Using the extinguisher:
Aim at the base of the fire and move the jet rapidly backward and forwards
For electrical fires: switch off the power if it's safe to do so, then direct the jet of powder straight at the fire
WHO NEEDS DRY POWDER FIRE EXTINGUISHERS
Dry powder fire extinguishers are ideal for open or outdoor environments with the risk of several different types of fire, especially those involving chemicals, fuel, or vehicles. For example:
Businesses using flammable gases for chemical processes
Premises where welding and flame cutting takes place
Garage forecourts
Liquid petroleum gas (LPG) dispensing plants
Premises with large, commercial boiler rooms
WHERE TO LOCATE DRY POWDER EXTINGUISHERS
Place dry powder extinguishers near the source of the fire risk.
PROS AND CONS OF DRY POWDER FIRE EXTINGUISHERS:
Pros: work on most types of fire; they suppress fires very quickly; specialist dry powder extinguishers are the only extinguishers that work on flammable metals.
Cons: slight danger of the fire re-igniting; when discharged, the powder can spread over a large area leaving a residue; can obscure vision when discharged and can be inhaled if used in enclosed areas.
Important note:
If you suspect someone has inhaled spray from a fire extinguisher, get them to fresh air immediately. Exposure of the eyes or skin to any of the dry chemical fire extinguishers should be treated by immediate rinsing of the affected areas.
If you need dry powder fire extinguishers or are not exactly sure what you need, please reach us at 03 – 7831 4791 or email us at [email protected]. Our friendly team will gladly serve you with the best services.
Credit: https://surreyfire.co.uk/dry-powder-fire-extinguishers/, https://surreyfire.co.uk/types-of-fire-extinguisher/