E-hailing Driver Need to Own Fire Extinguisher
Steps in registering Grab Driver
Road Transport Department (JPJ) has previously announced that drivers who want to express grab drivers or e-hailing another (such as MyCar and MULA) must have a Vocational License (PSV-Taxi / E-hailing) and a fire extinguisher prior to July 12, 2019.
It is consistent with the provisions under Section 56 of the Road Transport Act 1987 (APJ 1987).
This is to put the driver in the equivalent E-hailing taxi cab service, which acts as a provider of public service vehicles. Drivers will receive a physical card new vocational license.
Individuals who wish to apply for vocational licenses can register at the Institute of Driving Training Center recognized by the RTD, starting 1 April 2019.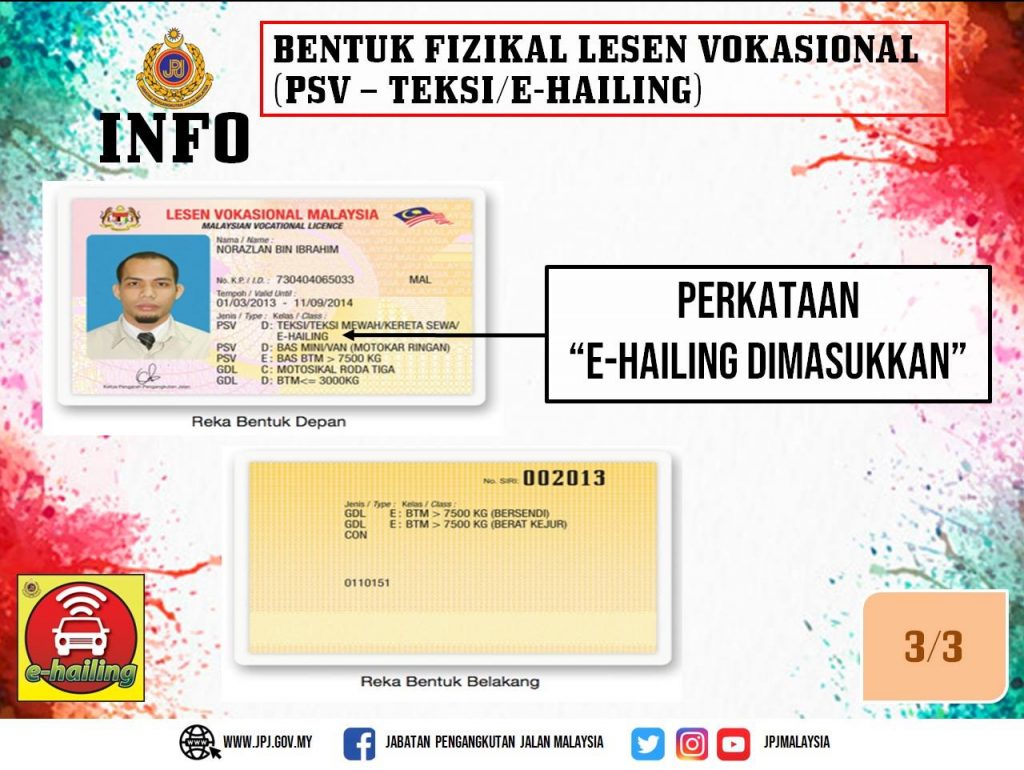 The training modules involved Vocational License is for 6 hours with maximum fee rates set by the government at RM200.
While the vehicle you want to use as an E-hailing vehicle and aged less than 3 years from the date of registration, must undergo a process of conversion of vehicles from Private Vehicles to Private Vehicles E-hailing.
Applications can be made at RTD state offices and branches throughout Malaysia except for UTC.
For vehicles older than 3 years from the date of registration, should undergo an Interim Examination Used in PUSPAKOM before undergoing the process of conversion of vehicles at RTD.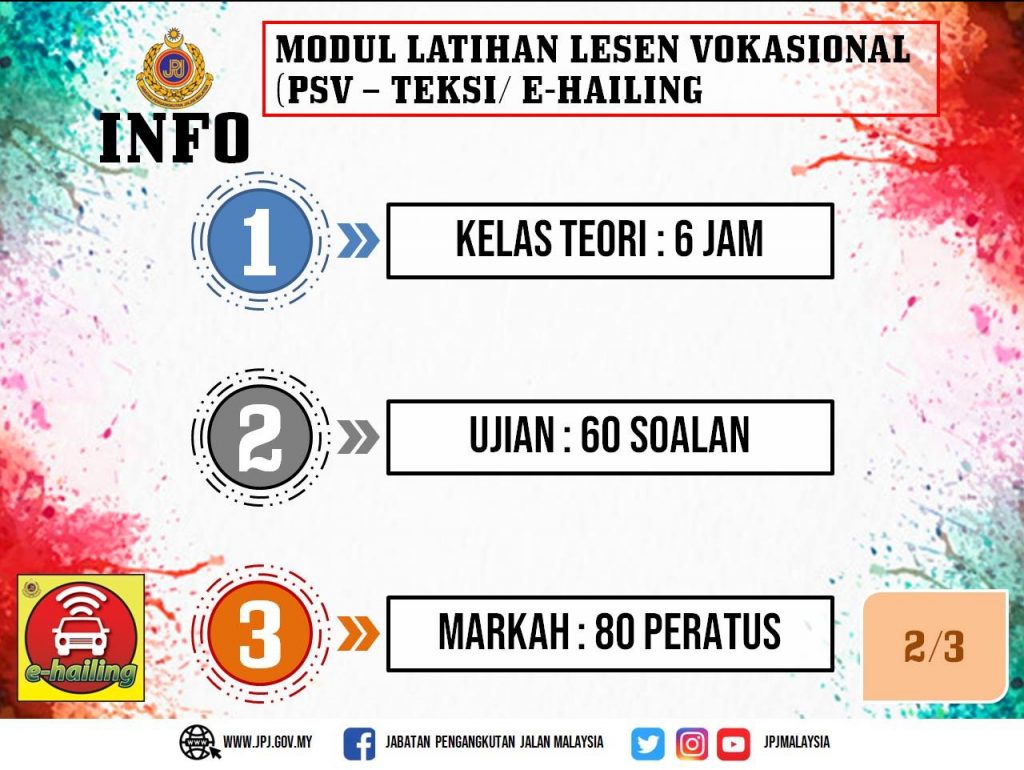 PUSPAKOM inspection can be done in 54 PUSPAKOM branches across the country. Some rules are made to vehicles that can be used for E-hailing.
It is open to all types of vehicles except Pick-Up, with 4-11 seats, including the driver.
For vehicles up to 8 passengers (including the driver 9), it should include a first aid kit. All vehicles should have a fire extinguisher 1kg of dry powder or carbon dioxide.
For the windscreen, it must have a level of transparency to light of over 70% for the front windscreen, more than 50% of the taxi and the driver's side window and over 30% for rear passengers and the rear screen.
According to RTD, rules and guidelines established is for giving protection to the driver, passengers and third parties against any unwanted risks.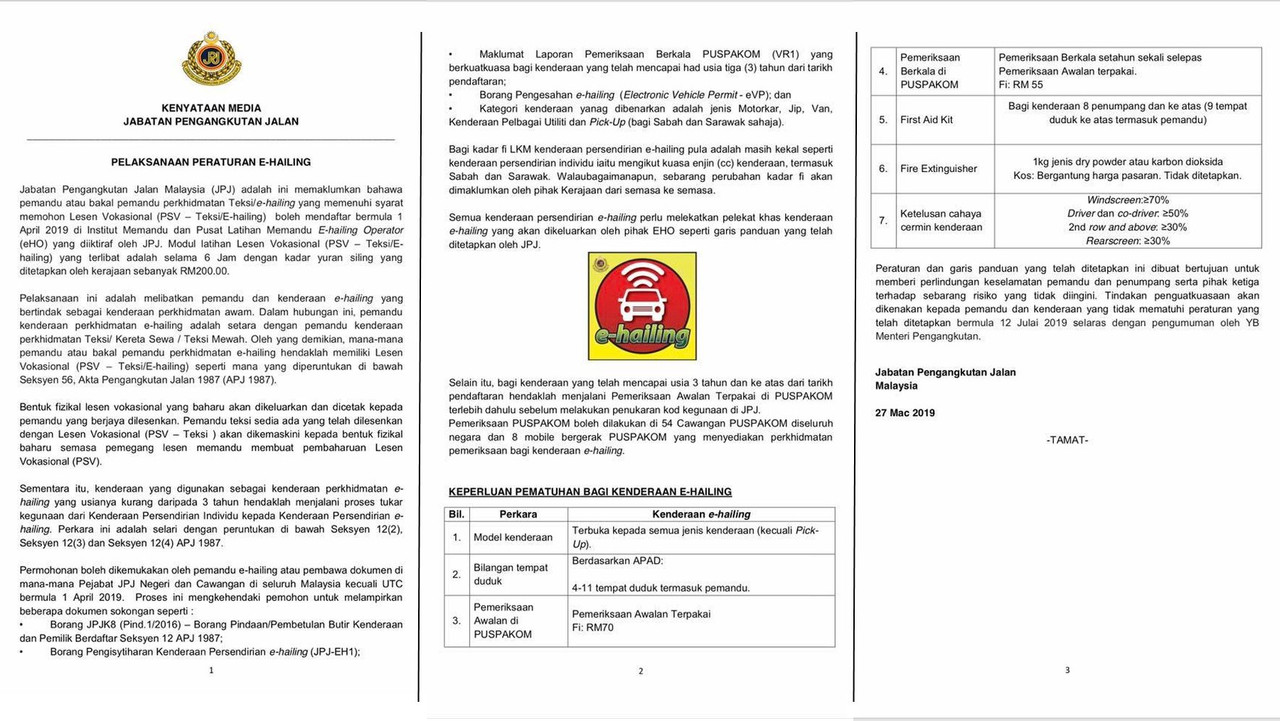 Enforcement will be charged to the driver and the vehicle is in default, commencing July 12, 2019, in accordance with the announcement by the Minister of Transport.
In the meantime, the Malaysian Fire and Rescue Department (Bomba) also advised drivers to keep a fire extinguisher in their vehicle as a first step to prevent fires due to the increasing cases of burning vehicles on the roads involving cars.
"Right now there is an increasing trend of car accidents resulting in fire."
"So, we advise the public to keep a fire extinguisher in the vehicle to assist if the fire event happen,"
Statistics from the 2015 record, there were 278 cases of fire vehicles involving all types of ground transportation, mostly cars.
For the previous year 2014, as many as 499 fires registered vehicles. Fire extinguishers should be something that is very important and mandatory on all vehicles.
People are willing to spend to purchase additional accessories for their vehicles but are not willing to buy a fire extinguisher that only cost around RM60 per kilogram.
In the event of a fire on your vehicle, the most simple and fast way to control this is with a fire extinguisher.
The early step we can take before waiting for help to arrive.
Fire on a vehicle can spread very quickly within five to six seconds and if the fire extinguisher is available in the car, the fire can be contained quickly and avoid greater losses to the owner.
Need a fire extinguisher for your vehicles?
Contact us at 010-2412534 or purchase on our online store now!