5 were killed & 37 were injured.
SEOUL – Five people were killed and 37 others injured in a fire that engulfed a noise-barrier tunnel along an expressway in Gwacheon city, just south of the capital Seoul, Yonhap news agency reported Thursday.
The blaze erupted when the vehicles collided at about 1:50pm within the noise tunnel in Gwacheon alongside the Second Gyeongin Expressway that connects the western port town of Incheon to Seongnam City, the government said.
Firefighters said the collision occurred in a noise protection tunnel on the highway. The high tunnel is intended to protect the surrounding buildings from street noise.
Rescuers found five people dead inside vehicles, including those involved in the collision. Rescuers initially put the death toll at six, but later corrected it to five, saying one victim was counted twice.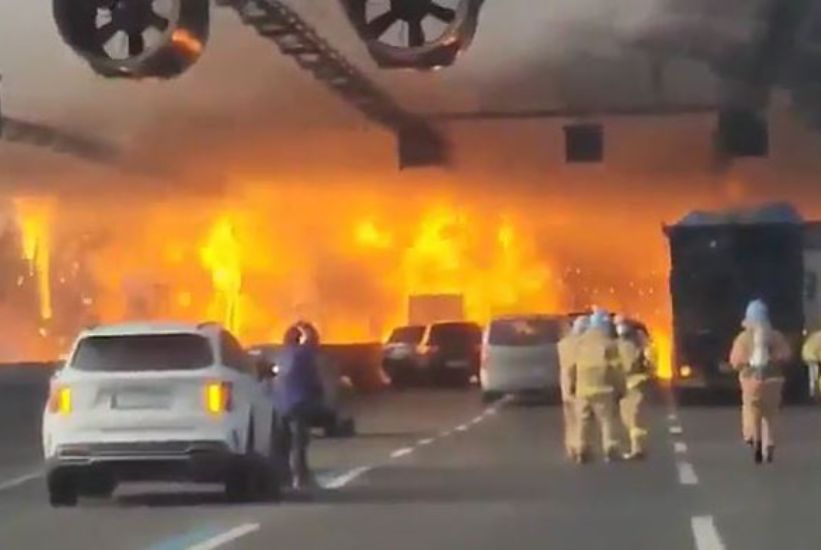 This photo of a fire on an expressway in Gwacheon is provided by a news reader. 
Thirty-seven others sustained injuries, such as smoke inhalation, most of them slight, but three people sustained serious injuries, including burns.
President Yoon Suk-yeol told the authorities to very well seek the web website online of the twist of fate to make certain there are no additional casualties and to offer complete medical help to people who had been rescued, in keeping with deputy presidential spokesperson Lee Jae-myoung.
Yoon also called for an intensive evaluation of the motive of the damage, measures to prevent a recurrence of similar accidents, and a direct inspection of noise tunnels and comparable facilities, Lee stated.
The authorities said the death toll could rise further depending on the outcome of the rescue operation. An overall of ninety-four hearthplace trucks, 219 hearthplace employees, and helicopters had been despatched to the scene, and the hearthplace became absolutely extinguished at 4:12 p.m.
Authorities plan to decide the precise reason for the hearthplace as quickly as it's far brought under control.