Fire Certificate : For Premises and Fire Extinguisher
Fire Certificate : For premises and fire extinguisher. Fire certificate is intended to ensure that the premises have designated safety, prevention, fire protection and fire-fighting enough for the safety of life and property from fire.
Fire certificate applicant will be responsible for fire safety of their premises.
Based on the duties and responsibilities of the Malaysian Fire and Rescue Department (Bomba), generally, all premises must be inspected by the Fire Department inspection team.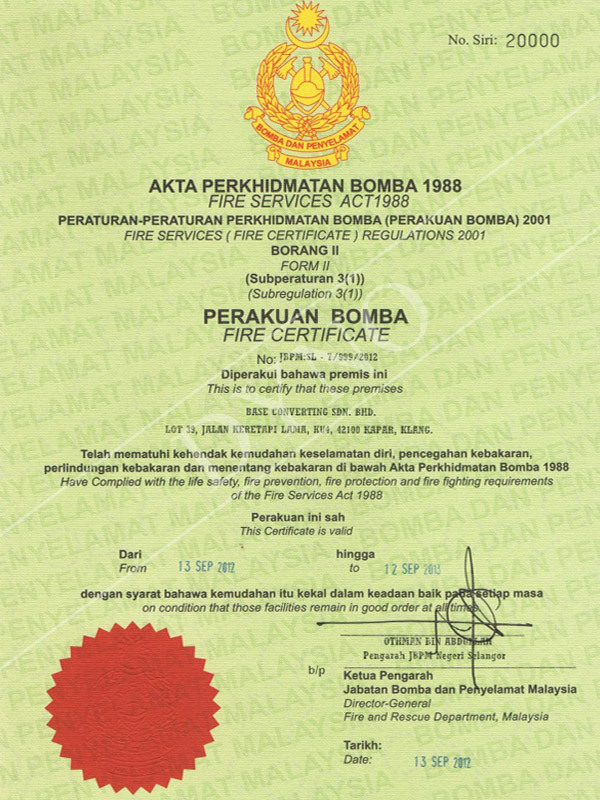 In practice, there are certain categories of buildings that have a high risk of fire hazards or have special risks that require special attention.
For example, oil refinery premises have a higher risk than ordinary petrol stations.
Under the Fire Services Act 1988, the General Director has the power to determine and issue a certificate upon him. Provision for a fire certificate is in accordance with Part V (sections 27 to 36) the Fire Services Act 1988.
Designated premises
According to the interpretation of section 2, "designated premises" means the size of premises or place has been determined under section 27 for the purpose of issuing a certificate of fire.
General Director is authorized under the Act to prescribe the designated premises. Thus, the legal representative of the issued by the Bomba Fire Services (Designated Premises) 1998 [PU (A) 276/1998], which came into force on 23 July 1998.
Determination of designated premises is according to the Schedule of Fire Services Order (Prescribed Premises) 1998. As the following list:
Library with more than 1000 square meters of floor space.
Hospital and home visits either 3 floors and over where each floor area exceeds 250 square meters; 5 level and above. The open design of the ledge: 4 floors and over 50 rooms; 6 level. For design lainl 21 rooms and more.
Hostel and dormitory: 4 storeys and over where each floor area exceeds 250 square meters; 6 levels and more.
Office: heights exceeding 30 meters or 10,000 square meters of total floor area.
Shop: 2001 square meters of floor area.
Factory: One story 2001 square meters and built-in automatic spray system; 2 floors where each floor is built as a separate, single or terraced construction of more than 1000 square meters of total floor area; 3 level and above; Storey factory building block approach open balustrade 2 floors and more space in which each exceeds 7000 meters solid; The typical structure of such a complex blend oil, oil refineries, cement works and other harmful processes.
Place of assembly: Buildings without centralized aircond 2000 square meters and more; Building a centralized aircon of more than 1000 square meters with a capacity of 1000 people and more.
Storage and General Structure: Underground parking welcoming more than 1000 square meters; more than 7000 cubic meters; 2 floors and more than 1000 square meters of total floor area.
According to Section 28 (1) of Act 341, any designated premises shall have a fire certificate in force. Meanwhile, according to Section 33 of Act 341, the owner who does not have a fire certificate is guilty of an offense.
IMPORTANT NOTE: On 1 September 2018 Fire Services Act 1988 (amended 2019) came into force. Penalties for offenses of not having a fire certificate have been amended to effect a fine of RM50,000.00 (fifty thousand) or 5 years imprisonment.
Application of fire certificate can be made through online website "Business Licensing Electronic Support System  (BLESS)". https://www.bless.gov.my/bless/action/login?show
The fire department will ensure that once the application was made, they will determine the officials concerned to conduct the inspection on the specified date and time.
Fire extinguisher certificate.
To obtain this certificate, the premise owner has to purchase a Fire Extinguisher which are Certified by SIRIM, Approved by BOMBA and meets the Code of Practise, in terms of size, type and location of installation.
Application to the nearest Balai Bomba has to be made using Borang APA 1, APA 2 & APA 3. with payment.  Upon approval, normally 2 to 3 days, an EFIES sticker and a receipt is issued.
The first copy of EFIES sticker is to be paste onto the fire extinguisher body.  Make sure does not obstruct the original label on the extinguisher body, especially the operating instructions.
The second copy is to be kept for future reference. Sometimes the local authority requires the receipt as proof of approval, sometimes they require the second copy to be submitted together with the business license application or renewal.
To consult more about fire certificates, do contact us at 03 – 7831 4791.