Pemadam Api Johor : Pembekal Alat Pemadam Api di Johor
Jika anda seorang pemilik atau pengurus bangunan, anda pasti tahu bahawa bangunan anda wajib memiliki alat pemadam api yang berdaftar.
Berapa banyak alat pemadam api yang diperlukan untuk satu premis?
BOMBA mencadangkan sebanyak 1 unit Alat Pemadam Api 9kg bagi setiap 500sq ft. Walau bagaimanapun, anda boleh mendapatkan konsultansi daripada kontraktor kebakaran untuk mendapatkan maklumat yang lebih lanjut yang bersesuaian dengan jenis dan kehendak bangunan anda.
Kenapa Kita Perlu Servis Alat Pemadam Api?
Setiap pemadam api perlu diservis supaya ia sentiasa berada dalam keadaan baik seperti kandungan dry powder di dalam alat pemadam api jenis ABC, pressure di dalam tong alat pemadam api, nozzle, pin keselamatan dan sebagainya.
Pemadam api jenis ABC Dry Powder perlu diisi semula (refill) setiap kali selepas digunakan walaupun hanya satu semburan. Walaupun masih terdapat sedikit isi kandungan dry powder di dalam tong tersebut, kandumgan pressure di dalam tong alat pemadam api akan berkurang dan menyebabkan ia tidak dapat disembur untuk memadamkan kebakaran.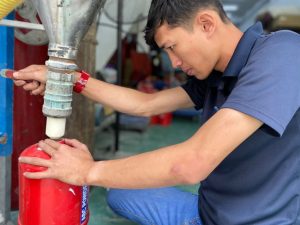 Oleh itu pemeriksaan berkala ke atas pemadam api secara berkala perlu dilakukan. Servis dan renew alat pemadam api wajib dilakukan setiap tahun oleh kontraktor pemadam api yang bertauliah.
Jika anda berada di Johor, terdapat beberapa syarikat kontraktor pemadam api yang membekal dan menyediakan servis alat pemadam api.
1. AITO Firework
AITO Firewok merupakan syarikat professional yang mempunyai pengalaman dan kepakaran dalam industri keselamatan kebakaran. Di AITO, mererka menyediakan konsultansi berkenaan alat pemadam api secara percuma. Pemadam api yang disediakan oleh AITO Firework adalah pemadam api yang diluluskan oleh Bomba dan mempunyai kelulusan SIRIM.
Jadi, pengguna tidak perlu risau akan kebarangkalian untuk pemadam api meletup, cepat rosak dan sebagainya.
AITO Firework juga menawarkan rundingan berkaitan perlindungan kebakaran termasuk Sjil Perakuan Bomba, Pemasangan dan Penyelenggaraan sistem keselamatan kebakaran.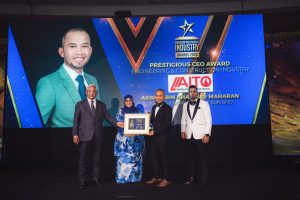 AITO juga telah memenangi Prestigious CEO Award in Construction and Engineering (Fire Industry) membuktikan kecekapan dan keolehan AITO dalam menerajui industri keselamatan kebakaran di Malaysia.
2. Bintang Ukhwah Services
Bintang Ukhwah Services merupakan syarikat 100% bumiputera yang menawarkan khidmat penjualan dan penyelenggaraan alat pemadam api serta membekalkan kelengkapan keselamatan bagi personel disamping menawarkan khidmat konsultansi mengenai keselamatan kebakaran.
Bintang Ukhwah Services diterajui oleh individu yang mempunyai kemahiran dalam kes-kes kebakaran dan memahami sifat api serta memiliki pengiktirafan di dalam dan luar negeri.
3. Kurawah Fire System
KURAWAH FIRE SYSTEM SDN BHD (sebelumnya dikenali sebagai Kurawah Fire System) ditubuhkan pada 11 Mei 2009 dan mula beroperasi pada bulan September tahun yang sama. Syarikat ini mengkhususkan dalam menyediakan pelbagai Peralatan Pemadam Kebakaran untuk Darat dan Laut yang dihasilkan oleh pengeluar tempatan dan asing.
4. STI Fire Safety
STI Fire Safety adalah industri yang berkembang pesat di Selatan Malaysia dan Singapura. Pada mulanya, kami dikenali sebagai Sintec Engineering and Marketing, khusus dalam pemasangan sistem perlindungan kebakaran dan perkhidmatan elektrik untuk kilang, gudang, bangunan bertingkat, loji janakuasa dan lain-lain.
STI FIRE SAFETY SDN. BHD. dibentuk pada tahun 1997 ketika Encik Ian Choong (pengasas) terlibat dalam jawatan yang lebih pengurusan. Dengan kemahiran pengurusan dan analitiknya, dia melihatnya dalam memperluas skop bidang ke arah yang lebih luas.