A fire alarm system is an installation system that can detect or give a warning to people when there's a fire emergency. The main purpose of the fire alarm installation is to detect fire at the first phase so that any further actions can be taken and they can be ready anytime if there are any fire appearances.
As people know that when there's a fire, it will produce heat, smoke, and also radiation from the fire. Because of that, we had produced the fire alarm system that is specially designed for alerting or warn the people in the building or in their resident so that they can escape fast and not getting hurt by the fire.
There's a lot of ways to adjust the fire alarm. One of the best ways is that the detector tools need to be connected straight at the fire alarm panel in the building and after that, it needs to connect to the nearest fire station. Other than that, it can be connected to the extinguishing system at a fixed place. The detector tools can trace any fire and the signal can be sent to the fire panel alarm and then it can be allowed the extinguisher agent to be released and thus putting out the fire.
The figure shows how the detector tools help to prevent fire.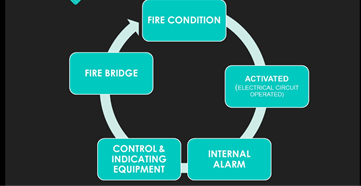 Fire alarm panel is one of the installation panels that contains information about the detector tools and fire control that had been a plan for showing off the affected location that had happened and the alarm bell will be alert us the warning. The system needs to base on the type of occupancy that as well as the heights and the wide of the building. It's for specifying the prevention of fire in one of the buildings such as the smoke detector, emergency bell, glass breaker, system CO2 and an automatic spraying device.
These are the simple operation panel system. The alarm panel is the main wiring center of the fire alarm system. The panel is to show the zone position tools that had been installed in the mimic plan. The panel need to keep in the lower level of the building or in the control cabin. It also needs to prepare the TNB electric supply and also the batteries. The panel need to show the operation information to the receiver of fire suppression systems such as the host loop system pump the sprinklers or the CO2.
Contact us now to discuss further fire extinguishers. Our sales team will assist you to follow the regulations to ensure your business is meeting its obligations. 
 CLICK TO WHATSAPP