How to use a fire blanket? A lifesaver in an emergency.
A fire blanket is an alternative device against fire that involves combustible cooking tools pan or in circumstances of an individual's clothes getting caught on fire.
It is a device designed to extinguish an early type of blaze. The device extinguishes small fires by suffocating them from oxygen.
Consist of fire retardant and resistant material such as wool, fibreglass, asbestos and cotton. Small blankets are usually used in the household kitchen. Meanwhile, larger blankets are used in laboratory and industrial premises.
Here, I am going to explain how to operate for the combustible cooking tools and personal clothing fire:
Combustion that starts with a cooking media
The method of how to use the fire blanket for combustion that starts with a cooking media is first to turn off the heat source; if it is safe to do so!
Then, grab the device and immediately pull the tapes to release it from its box.
After that, hold and wrap the blanket around your hands for protection.
Gently, place the blanket on the burning pan or container to smother the fire. Leave them to be completely cool – do not attempt to uncover.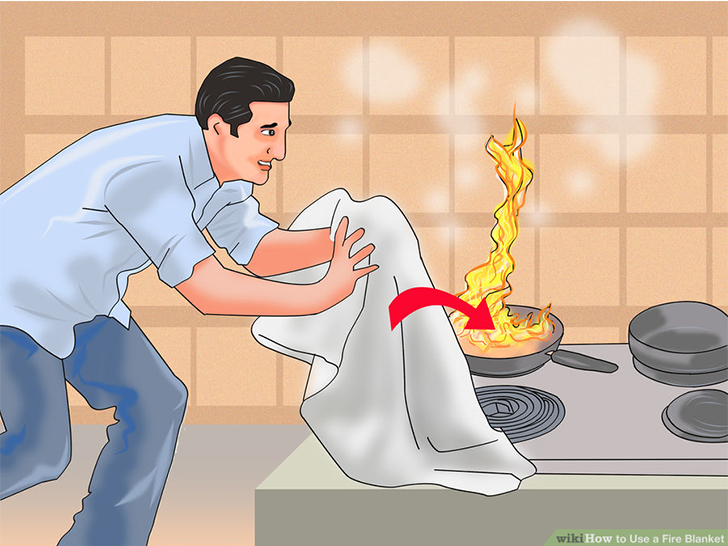 Next, for the personal clothing fire; the method is just the same as for combustible cooking but, easier.
Like so, pull the tap to pull out the device from the storage box.
If possible, for additional protection, hold the blanket in a shielding position and wrap it around your hands.
Proceed with caution, wrap the blanket around the person who is on fire to put out the flames.
The fire blanket is used to cut off the oxygen supply to the fire and as a result, putting them out. The basic is solid surface around the fire must be sealed closely with the device. Do not expose it to oxygen as it may still ignite.
Every household and industrial premises should own this product. This is because the device is easy to be used. These non-flammable blanket can smother the fire in just a blink of an eye. Due to its simplicity, the device may be more helpful especially for someone that is inexperienced with fire extinguishers.
AITO Firework provides a fire safety consultant that will help you to provide solutions for your business.
Email us now to discuss how our fire safety consultants can assist you to follow the regulations to ensure your business is meeting its obligations.  WHATSAPP FOR MORE INQUIRY or call 03-7831 4791